Our assistance and training service brings technical expertise to help you increase the skills of your teams.
Haladjian provides assistance and training for its customers' operators directly on the sites. Our team are OEM trained and all are backed by our application, machine and product experts to deliver expertise across Mining Applications.
Delivering assistance and training to your dedicated application, our team are job ready, trade certified, hold proven police clearances, site inductions, comprehensive medicals, public liability and employee compensation insurance.
---
All courses are a combination of theory and practical, conducted on your site. The courses are given in English or French, focused on the following subjects :
BUCKETS
Part preparation process
Welding techniques (pre-heating, cutting, chamfering, etc.)
Replacement and mounting of blade assemblies
Adapter installation
DUMPER LORRY TRAILER BOTTOMS
Replacement of anti-abrasion protective devices (steel shielding, stone-box, pin-on pads, rubber or PEHD coating)
CRAWLER TRACKS
Monitoring the wear of crawler tracks and of each component
Component replacement (rollers, wheels, pads, etc.)
Use of a track removal press
SAFETY AND PROCEDURES
Awareness raising of risks of wear related to driving
Use of the proper tools
Optimisation of workshop optimisation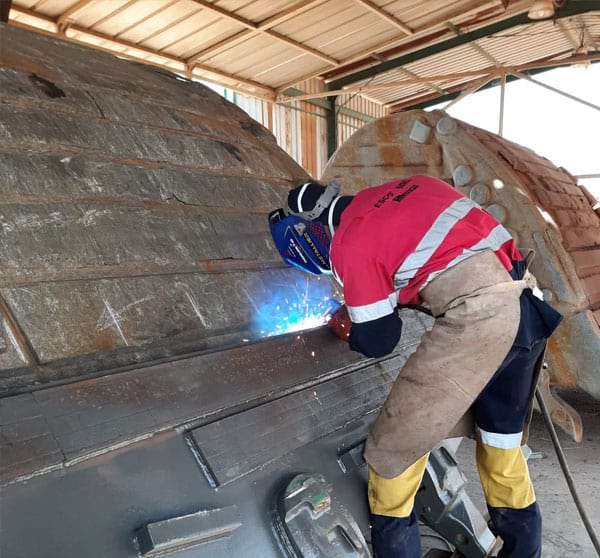 THE TEAM
Mining Equipment Specialists
Heavy Duty Specialists
Welding Experts
Welding Trainers
Shovel Experts
Drilling Experts
GET Product experts
Tracks Product experts
Questions about our assistance and training program ?
Our training program can be scheduled at your worksite upon request. Online materials and resources can be integrated into your own training programs. All our people are qualified technicians and engineers that can rapidly respond to your service and maintenance needs.
Please feel free to get in touch at mining@haladjian.fr with any questions or comments about our training programs.
Contact our team